Performance & Imagery

The dictionary definition of poetry embraces both poems and prose, but in the broadest sense, poetry also comes in other forms and is present in contexts not ordinarily thought to be poetic.

MEET THE MAGICAL GILLIAN BRADSHAW-SMITH

The work of this British-born designer (Dallas, TX) shows what an artist with a deep poetic and literary understanding can achieve in scenic design for the stage, especially ballet.   Gillian's designs are magical and majestic, perfectly executed, and always a core element of good story-telling.  Her designs have graced many acclaimed productions. http://gillianbradshaw-smith.net/scenic.html
A portion of the scenic design for New York
Theatre Ballet's Alice-in-Wonderland Follies.
ZEUS TAKES PITY ON DAPHNE: A New Gallery Series

The works shown here are from Gillian's extensive Daphne series.  They had their premier public showing in this website in December 2013.  They express the myth of Daphne, who was rescued from Apollo by Zeus who turned her into a tree. The more you look at them the more sensual and stunningly beautiful they become. They are gouache, an opaque watercolor on paper, 6" x 8" in actual size. Gillian had a one-woman exhibit of 25 of her Daphne creations, including large scale fabric collages, at the Ro2 Gallery in Dallas, TX from Sept.10 - Oct. 8, 2016.  They can all be seen HERE. 

| | | | | |
| --- | --- | --- | --- | --- |
| | | | | |
| | Myth of Daphne (1-114-1) | | | |
| | | | | |
| | | | | |
A FINE ART SERIES - PAINTED WOOD SCULPTURES
(rated alto wood base - prices available from artist)
Judgment of Paris - 3 views - 17" x 8" x 9.5"
Moon Tracing - 2 views - 15 1/4" x 10 1/2" x 8 1/2"
Chorus Line -2 views - 13 1/4" x 9 1/4" x 3"

Patricia Conolly

POETIC READING BY ACTRESS PATRICIA CONOLLY

Listen to this DVD segment of "Who? Him? Herman? Hmm..." from On the Crest of a Wave by Genevieve Wood, presented at the Players Club in New York City, June 2010. CLICK HERE to access the DVD (4'57"), playable on Mac (Quicktime) and PC (Flash) formats. Patricia Conolly grew up in Australia. A resident of New York City, she has performed major classical roles in England in the West End, the Royal Shakespeare Company, and Chichester; in Canada for the Stratford Shakespeare Festival; and on Broadway, Off-Broadway, and in major regional theaters across the US. She has directed and taught at several theater institutions, including the Old Globe/University of San Diego MFA program, North Carolina School of the Arts, Juilliard, Florida Atlantic University, University of Southern California, and Boston University. http://en.wikipedia.org/wiki/Patricia_Conolly

NARRATION BY ACTOR-CHOREOGRAPHER DAVID VAUGHAN

David Vaughan, a New Yorker born in London in 1924, is a world renowned dance historian, writer, choreographer, actor, singer, and Frederick Ashton scholar.  He was also archivist for the Merce Cunningham Company, and he is a fan and champion of New York Theatre Ballet (NYTB) in whose rep performances he often appears as a guest speaker. Remy Charlip (1929-2012) wrote and/or illustrated some 29 children's books – he was also a writer, theater director, and true original as a dance innovator and choreographer, as his unique "10 Imaginary Dances" shows.  Vaughan's narrative ability, Charlip's ingenuity, and NYTB with its repertory of small classic dance masterworks came together in September 2013 when Vaughan narrated "10 Imaginary Dances" at NYTB's first Dance on a Shoestring performance for the season. CLICK HERE to enjoy the NYTB-Vaughan delight (you may need to adjust your volume for clarity). It is a 7-minute foray into wit and whimsy. You have never heard anything quite like it.  (Note: Mr. Vaughan first narrated this piece at an all-Charlip evening at the Joyce Theater in 1987.)


David Vaughan

MARY REGENSBURG FEIST (1914-2014)

Sunflowers, 1999, 36 x 24"

Peggy, c.1956, 40 x 24"

Seaman, 1934, 30 x 28"

Mary Regensburg Feist painted from childhood well into her 90s. She studied with renowned American artist John French Sloan from 1932-36. Her paintings were and are displayed alongside some of the all-time greats including Sloan himself. Several of her creations are in the permanent collections of the Westmoreland Museum of American Art and the New Mexico Museum of Arts. She displayed in many galleries over the decades. Mary lived all of her life in New York City. She was a handsome, soft-spoken, socially and politically aware artist. Her themes on canvas were varied and sophisticated, honest and revealing, deeply sensitive to the people and world around her. In July 2016, her daughter Betsy honored her with a lovely new website, www.MaryRegensburgFeist.com. The site features selections from Mary's work, including the three images shown above, a tv show interview, paths to additional paintings, and a short bio. (Ed. Note: I met Mary only once when she was in her 80s. We spent a few hours together at a local hospital. Afterwards, she graced my life with the simple basket of roses shown below, 11" x 14".)

Dylan Thomas

A CHILD'S CHRISTMAS IN WALES

It is well known that few poets have well-trained speaking voices or are eloquent enough to do justice to a reading of their own work. The great Dylan Thomas was one exception, as his warm poignant Child's Christmas in Wales shows.  For those who have heard his sonorous voice reciting this extraordinary prose poem and those who haven't until now, here is Christmas year around, courtesy of You-Tube.  It is pure poetic eloquence. 




Ice on A Window, William Giles, Rochester, NY, 1964
(private collection)

William Giles studied and worked with some of the 20th Century's greatest photographers, including Ansel Adams, Minor White, and Dorothea Lang. He chaired the department of photography at the University of Rochester in the 1960s. Since the 1970s he has continued his development on the West Coast as a photographer and teacher, giving exhibits and workshops around the country. His images haunt the mind and memory with transcendent light-infused impressions of nature. http://www.williamgiles.com/index.php?page=home2

| | | | |
| --- | --- | --- | --- |
| | | | |
| | | | |
| | Blue River on 9th, Road to Red Hook, 2010 | Neergaard Drugs, Road to Red Hook, 2010 | |
| | | |
| --- | --- | --- |
| | Earl Black is a Brooklyn folk artist. He draws his subject matter from everyday life experiences in and around Brooklyn, childhood memories of Hawaii, and travels abroad. He describes his work as "immediate, exuberant, sometimes sophisticated, and sometimes idiosyncratic." The "Road to Red Hook" pictures shown above (24" x 30" oil on canvas, two in a series of 12) give homage to the hard scrabble neighborhoods of red-brick Brooklyn and the people who live and work there. Blue River on 9th was shown in Lecce, Italy in 2010 as part of a "Merchant of Dreams" exhibit there. The "Passage from Epano" paintings below (24" x 30" oil on canvas, two in a series of four) depict an early morning sail past a small stone cottage at the head of Koufonissi Harbor in Greece, across the wine-dark sea to Ios, Homer's Island. | |
| | | | |
| --- | --- | --- | --- |
| | Passage from Epano - Stone House #1, 2011 | Passage from Epano - Stone House #2, 2011 | |
| | | | |
| | | |
| --- | --- | --- |
| | The paintings below are scenes in the Huntington/Gowanus section of Brooklyn. The first three images depict an area that Mr. Black describes as a "favorite haunt." All are oil on canvas, 24" x 30". The second group of three images, all 16 x 20, depict the area as it begins to show signs of life after the ravages of Hurricane Sandy. Mr. Black is a prolific artist. A vast collection of his work can be viewed from his website at http://www.earlblackart.com. Many of his works are available for purchase. | |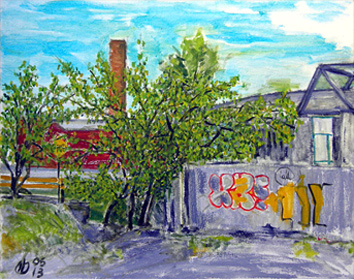 Huntington East 3, Brooklyn - 2013
| | | | |
| --- | --- | --- | --- |
| | Huntington East 1, Brooklyn – 2012 | Union Street Bridge South, Brooklyn – 2013 | |
| | | | |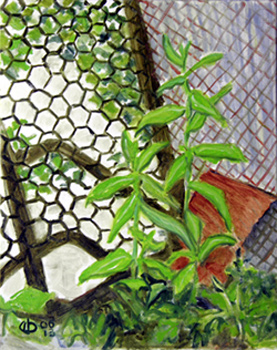 Huntington Foliage VI -2013
| | | | |
| --- | --- | --- | --- |
| | Gowanus Weeds 3 - 2014 | Gowanus Weeds 4 - 2014 | |
| | | | |
| | | |
| --- | --- | --- |
| © Copyright Purple Scooter Poetry 2015 All rights reserved | | site hosted and maintained by |