Reflect and Imagine
This website aims to contribute a bit of gentleness to life, to add softness, lyricism, and feeling to a nation and a world that are too often harsh, loud, and insensitive. It celebrates life, applauds the miracle of discovery, and tries to excite and encourage a love for words and sounds, creativity, and understanding.
Consider the site's various thematic sections. Some are unique. Discover the work of featured artist Genevieve E. Wood—click here to learn more and see samples of her work. Rediscover some of our greatest writers and artists. Meet some artists-in-waiting.
Adults and kids of any age can stop here for a poetic flower—to explore, to learn, to discover wonders within themselves, to indulge their imaginations, to share, to be uplifted, and to illuminate their own worlds.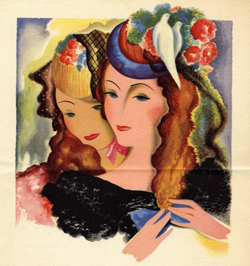 Adapted from restaurant menu, Mexico, 1940's